83.5 M/L Acres Hunting Land in Davis County, IA
This 84 acre property is located east of Bloomfield, IA 52537 Davis County. It doesn't take long looking at this farm to see the amount of work put into creating this incredible recreational property, making excellent habitat for whitetail deer and turkey. In addition to the habitat work and foodplots, there is a system of creeks and drainages that work perfectly to maneuver in and out of stands and remain undetected.
-$5203 total income/year currently
• 19.43 Acres CRP (CP10) @ $135.50/acre until 2027
• 6.0 Acres CRP (CP22) @ 261.60/acre until 2029
• 7 Acres Tillable (CSR 70's) @ $1000 total/year
Established food plots:
• 2 acres (currently soybeans)
• 0.5 acres clover
• 1 acre (currently 1/2 clover 1/2 rye)
• 2 ~.25-.35 acre clover "kill" plots
Improvements made to the farm in the past few years:
• 15 Acres of TSI (combination of hinge cutting, girdling, clean cut) done in winter 2018
• 1200 trees planted on north end in open areas. (mix of oak, walnut, and other species)
There are approximately 25 established chestnut trees on the property that are 15 years old have been consistently producing chestnuts for the past few years.
Property is located between Bloomfield, IA and Keosauqua, IA, 2.5 miles west of the Van Buren County line.
PDF Flyer
Photo Gallery
Map
View Larger Map and Get Directions
Property Information
Price

:

$272,000

Hunting Property

:

County

:

Davis

MOP Address

:

Virga Ave

MOP City

:

Bloomfield

Acres

:

83.50

Tillable Acres

:

7

School

:

Davis County

MOPLS ID

:

43075
About the Agent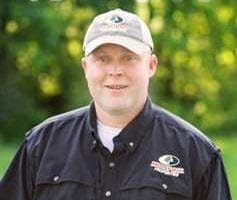 Phone Number:

(641) 919-2801

Office Number:

(319) 293-2575

Email:

nboley@mossyoakproperties.com
Nick is a Southeast Iowa native and other than a few short years living in Michigan, has lived in the same community he grew up in. Nick's passion for the outdoors started at a young age while quail hunting with his father and grandfather. After a few years of upland/small game hunting Nick started bow hunting the huge whitetails that call Iowa home. Nick also owns a very successful outfitting business, Windy Ridge Outfitting, which hosts trophy whitetail and turkey hunters in Iowa and has become the premier place to hunt in the Midwest. You can check out his website at www.huntwro.com for more information. Nick and his wife Abby live on a great hunting property in famed Van Buren County, Iowa with their 4 kids, Parker, Sophie, Cooper and Drake.
Have a Question?