It is Morel Season!
Have you found any mushrooms yet?
According to Iowa DNR, the best time to look is when daytime temperatures reach the 60s and nighttime temperatures are in the 50s. More specifically, a soil temperature of 53 degrees is the time to start looking. They may be starting to pop soon, with the rain and warmer temps. If you don't normally have good luck check out a few of our tips below, they just might help you spot those mushrooms.
Morels are one of the most popular mushrooms to hunt, this may be because they're widespread, they're easy to identify, and they come up in the spring, giving people a reason to get out and enjoy warm weather after a long winter. Or, it could be they're popular because they taste so good. Here are a few tips for finding your own if you plan to hunt this season. Please note that although morels are easy to identify, some false morels can be poisonous.  If you have any doubt about a mushroom, don't keep it.
When can I find morel mushrooms?
They can be found in much of the U.S. from late March through May. Morels are plentiful, easy to identify, and delicious. They have colorful names like Molly Moocher, Miracle, Dryland Fish–or, my favorite, Hickory Chickens–but mostly, people just call them "mushrooms" and it's understood that means "morels."
How do I know it's a morel?
Morels are one of the easiest mushrooms to identify.  They have a pitted and deeply ridged cap that resembles a honeycomb.  The cap is also completely attached to the stalk, and they are completely hollow when cut in half.
There are a few varieties of "false morels", but they tend to not resemble morels that much.  If you're unsure, cut one in half to make sure that the cap is completely attached to the
stalk and that it is hollow. One other distinguishing characteristic of a morel is that they are almost always longer than they are wide.  Many of the false morels are wider and more squat.
Where do I look for mushrooms?
Morels live in and on the edge of forested areas. Look for ash, aspen, elm, and oak trees, around which morels often grow. Early in the spring as the ground is warming, you'll find them on south-facing slopes in fairly open areas. As the season progresses, go deeper into the woods and onto north-facing slopes. Well-drained, sandy soils like this creek bottom make good hunting spots as well. 
A few more hunting tips:
Hunting morels is like bass fishing. You cover ground until you find one, then slow down and search the area carefully. Concentrate the rest of your hunt on similar areas, on the theory that you've found the "pattern" for the day.
Morels often grow around dead and dying trees. Old apple orchards make good hunting grounds. Also, look around or near dead elm trees. When a tree reaches the stage of decay where its bark is slipping off its trunk you'll often find lots of morels around it.
When foraging for morel mushrooms, a mesh bag works great for collecting.  Some people even say it helps to spread the spores so that more mushrooms will come up next year.
Make sure you clean your mushrooms well before eating. Soaking morels in water for a couple of hours cleans them and washes out any bugs living inside the hollow mushrooms. Some people slice them in half lengthwise for a more thorough cleaning.
We would love for you to share with us some of your mushrooms, do you have an odd one, a large one or just get A LOT in one batch? Share them on our facebook page!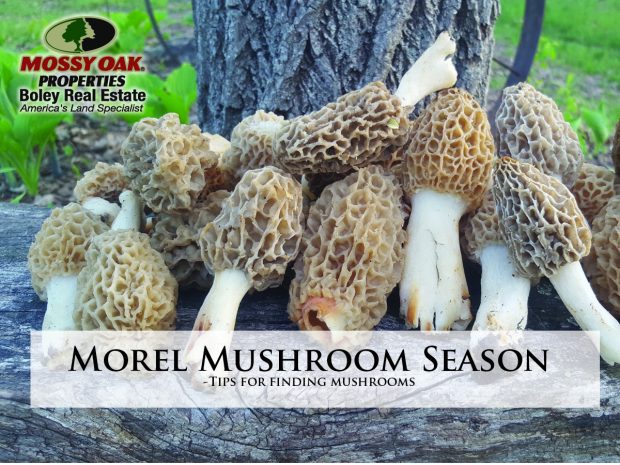 Here at Mossy Oak Properties we want to be sure we pass along information important to you in regards to outdoor recreation, agriculture and home. Check out more information on our Mossy Oak Properties Boley Real Estate Facebook page or on our Website found HERE.  We have certified land specialists that have hunting land for sale, agricultural land for sale and residential properties for sale. If you think you might be interested in joining the Mossy Oak Properties-Boley Real Estate team you can check out the opportunities available on our website.