If you live in Iowa, are around farming at all, or know anything about corn I am sure you have heard the phrase "Knee high by the 4th of July". But what does this actually mean? Today we will explore just that and talk a little about the current crop conditions in southeast Iowa.
This phrase is an old farming saying that indicates an important benchmark for growers to determine if they have a good corn crop. But many growers and producers will tell you that genetic improvements in corn over the years and earlier planting mean that often corn can be much taller than "knee high" by early July, but the adage is still a good general rule of thumb.
Farmers say you may not always be able to determine a good corn crop by this phrase but what's really important is the yield you're getting. The next phase in the corn lifecycle, which is coming up, determines yield. Corn produces individual male and female flowers on the same plant. The corn's tassel, the puffy hat at the top of the plant, is the male flower of the plant. Within the next two weeks the tassel will begin to form and the tassel's size will greatly determine the yield of corn. It's been said you need a good amount of rain (about 2 inches) during this time to get the maximum potential for the size.
Iowa Secretary of Agriculture, Bill Northey commented on the current Iowa corn condition last week. "Crops continue to make good progress and in general remain in good condition, with 79 percent of corn and 74 percent of beans rated good or excellent. There is concern about dry conditions in areas that have missed recent rains, especially in southeast Iowa where topsoil moisture is 78 percent short or very short," Northey said.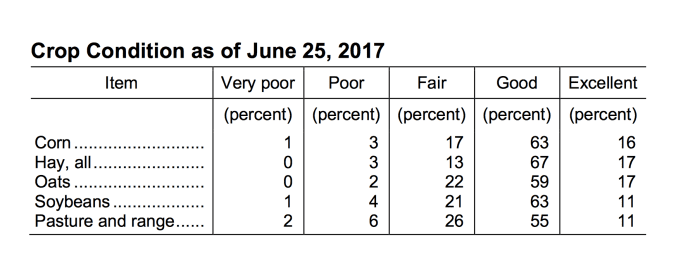 USDA's June 26th Iowa Crop Progress and Condition Report noted that Iowa experienced below normal temperatures across the state with mostly isolated precipitation during the week ending June 25, 2017, according to the USDA, National Agricultural Statistics Service. Statewide there were 5.3 days suitable for fieldwork. Activities for the week included herbicide application, side-dressing, cultivating, and haying.
They also noted topsoil moisture levels rated 5 percent very short, 23 percent short, 70 percent adequate and 2 percent surplus. Southeast Iowa's topsoil moisture levels continued to fall with 78 percent rated short to very short. Subsoil moisture levels rated 3 percent very short, 15 percent short, 79 percent adequate and 3 percent surplus.

When it comes to crops much of their success is dependent on weather and that is something we can not control, change or predict- its up to Mother Nature!
For more information on current crop conditions you can visit both the Iowa Department of Agriculture or the USDA website for Iowa.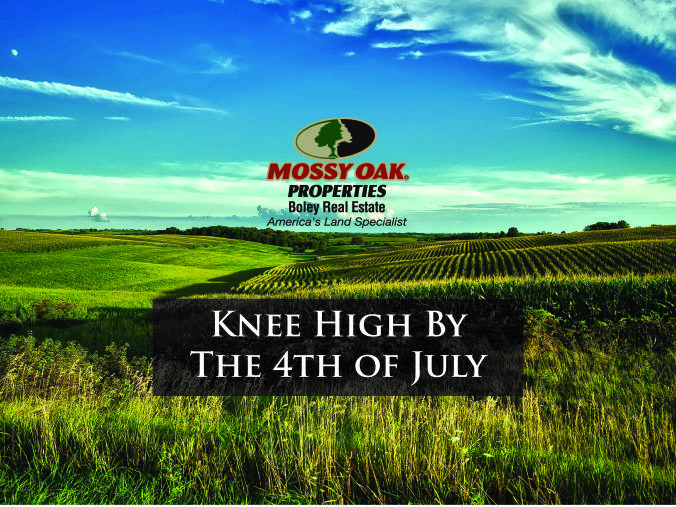 Here at Mossy Oak Properties we want to be sure we pass along information important to you in regards to outdoor recreation, agriculture and home. Check out more information on our Mossy Oak Properties Iowa Facebook page or on our Website found HERE. If you are interested in joining the Mossy Oak Properties- Iowa team you can check out the opportunities available on our website.