Written by: Mossy Oak Properties Agent- Chuck Johnson- CLS

Unless you live under a rock, you know the Ag economy has been struggling the past couple years. Crop prices are down significantly as are the average cash rents. However, I have some good news that you're likely not reading in the headlines. In most areas, property values have begun to stabilize due to a shortage of quality land on the market. This is especially true in areas within an hour of a major city, such as Des Moines, Iowa.
Major publications are good at creating headlines that over generalize. They have to..it's their job to appeal to a broad audience. However, I can tell you from experience that the generic propaganda that all land values are declining just isn't true.
There is a significant reason I'm writing this note right now. Daily, I'm working with buyers to locate quality farmland, hunting properties, and smaller building tracts just outside of Des Moines. Unfortunately for those individuals, there aren't many quality pieces available. As the owner of such land, you are in a prime position to capitalize on the situation. Most of the land owners I've represented in selling land this year are realizing an increased demand, and typically collecting higher than average values when selling their properties. However, as crop prices stay low, interest rates climb, and more land comes onto the market, the price you obtain will be significantly reduced. Whether you have several hundred acres to sell, a small piece of unproductive ground to parcel off, or a hunting property to 1031, please call me today. Timing is important to successfully achieving your ideal results….and that time is right now.
My name is Chuck Johnson, and I am a Certified Land Specialist (CLS) with Mossy Oak Properties. I specialize in the sale of Farm Land and Recreational Properties throughout Iowa. My passion for the outdoors, CLS Training, and experience with Mossy Oak Properties makes me uniquely qualified to get your land sold. Most all of my current listings are sold or pending sale, so I need additional properties to put in front of the buyers contacting me on a daily basis. If you or anyone you know are looking to sell land now or in the future, please give me a call to discuss. You can get more information on me and my properties by clicking here.
I currently have some great properties listed in Madison, Warren and Ringold Counties. These properties would be great for recreational or agricultural use. You can view my current listings on our website here.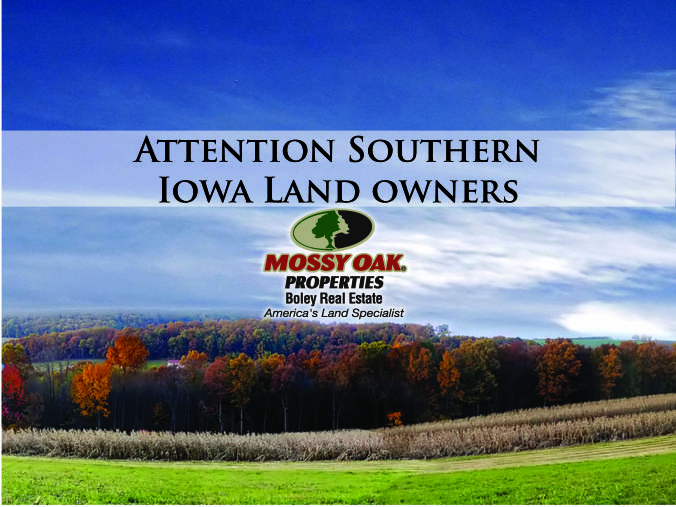 Here at Mossy Oak Properties we want to be sure we pass along information important to you in regards to outdoor recreation, agriculture and home. Check out more information on our Mossy Oak Properties Iowa Facebook page or on our Website found HERE. If you think you might be interested in joining the Mossy Oak Properties- Iowa team you can check out the opportunities available on our website.