This summer has been a warm one. In February of this year state climatologists predicted a warm dry summer and it seems as though their predictions may have been correct. With temperatures predicted in the upper 90's next week and some areas even seeing 100 degree marks we though it would be beneficial to share some tips for beating the summer heat!
Drink Plenty of Water
This is a given, when the temperature warms up its time to stay hydrated. Your body loses fluid when it sweats and this needs to be replaced to keep you cool. Try adding fruit or herb infusions to your water to mix it up!
Use Sunblockers
Keeping your shades drawn during the day and making sure you have good window coverings will keep the sun out and the temperature down in your home.
Optimize Fans
Make sure, even if you have AC, that you make the best use of the fans in your home. Use ceiling fans to circulate the cool air through the home. Also using free-standing fans costs less and keeps your AC running more efficiently.
Wear Light, Breathable Clothing
When you have to be outdoors make sure to dress light. Wearing colors in light shades such as white, yellows and pinks deflect the suns rays. Also choosing a light fabric such as cotton that is breathable and will keep you cool is important. Try wearing short pants, dresses, skirts, or linen pants, these are all clothing items that will keep you cooler.
Avoid Using the Oven
If you are cooking meals try to avoid the oven, use the grill outdoors as much as possible or your cooktop to avoid heating up the entire house!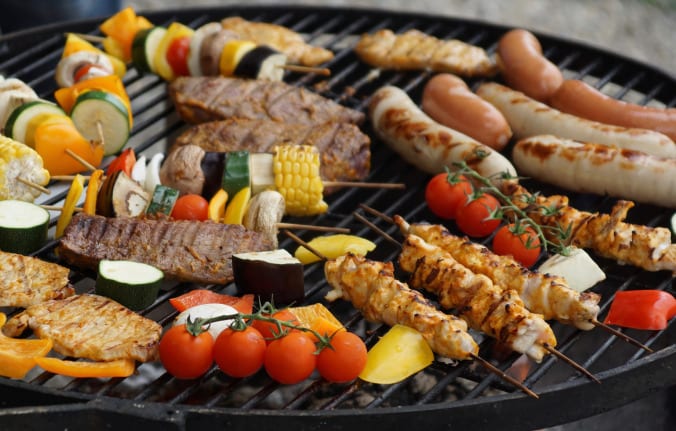 Spritz Cooling Points
Get a spray bottle with cool water and spritz the natural cooling points on your body as you start to heat up. A few of these are located on the wrists, the back of the neck and ankles.
Shut Down Electronics
When not using computers, gaming systems, TVs, or other electronic devices shut them off. These electronics give off heat when powered on and this can heat up your room a few degrees.
Ditch the Socks
During the warm months letting your feet breath will help keep your body cool and your body temperature down. Ditch the socks and tennis shoes for sandals if possible!
Eat Light
Choose foods that are light and cool. Think salads, fruits and veggies. These foods will leave you feeling nourished but not feeling too full and weighted down.
Maximize Cool Hours
Get up early for outdoor activities or fit them in later in the evening. Before the sun is fully up or down is the coolest time of the day, any activities that can be done during these hours outdoors will be more comfortable.
BONUS TIP- Enjoy Water Activities
Take a trip the lake and get in the water, visit the local swimming pool, visit a waterpark or try out a water aerobics class in your community. All of these are sure to keep you cool during the hot summer months!
Here at Mossy Oak Properties we want to be sure we pass along information important to you in regards to outdoor recreation, agriculture and home. Check out more information on our Mossy Oak Properties Iowa Facebook page or on our Website found HERE. If you think you might be interested in joining the Mossy Oak Properties- Iowa team you can check out the opportunities available on our website.